29 March 2011
.   .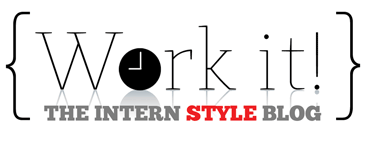 The corporate world. It's daunting, and equally unnerving to even think about. It's an entirely different universe where members of this so-called cult clutches their copy of the WSJ and respective smart phones desperately. One wrinkle or wrong type of shoe and it's obvious you're an outsider.
It is imperative that all know how to dress both appropriately and still impress. However, some don't understand the importance of it, or simply don't know how. It was after interning at a courthouse (it was appalling how many dressed not just for work, but to appear in court!) when I was inspired to help women and men alike put their best face forward for that first impression that makes all the difference. First appearances do matter. It's unfortunate, but it's true. We make our best—and sometimes most inaccurate—judgment within the first few blinks. Let's make it count in our favor.
The Basics
Every professional girl needs the following in her wardrobe:
Nude pantyhose
Black blazer
Black tailored pant
Black pencil skirt
White, button-down shirt
Black pumps, 3-4 in.
Boring, but these are the necessities in the corporate world. In a non-fashion area of the corporate world, being too fashion-forward can be a hindrance, since many cannot gather or fathom recent trends. I've attended a few career fairs and business courses (I'm currently a business school student at university)—and the standard dress code of a black pantsuit, pump, and white dress shirt is a must. Deviation—even if it's as minute as wearing a colored shirt or mismatching suit, reads as unprepared. Or, if your pump is a little to high or accessories are a bit too trendy, you're read as frivolous. Thus, embrace chic alternatives to the classic and the sophisticated to pave your way to true success.
Monochromatic palettes, and the classic black, white, gray. It instantly gives an impression of maturity, sophistication, and timelessness. A bit of color is always a youthful touch, but in the office, it's usually better to stick to conservative color palettes and colors: black, white, gray and blue. Of course it is not crime to dress up a little black dress with a colorful cardigan–but keep prints to a minimum, and opt for solid-colored (florals are the exception!) pieces.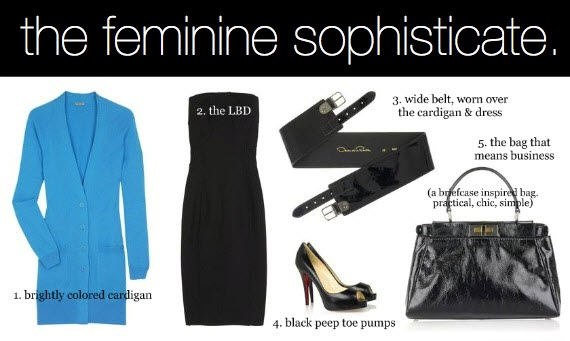 The classic pump. It's your best friend; not too high and not too low. The three-inch, black, stiletto pump is the ultimate corporate wardrobe piece. A symbol of executive power welded by the female in the working world, there is no way one can ever go wrong with the shoe. It's classy, and can't be deemed a "hooker heel" (those who are ignorant often label anything over three inches to be such shoes). The almond-toe or pointed toe (ah, the return of the pointy toe!) for winter/fall, and the peep-toe for the warmer seasons. Do make sure your toenails are well manicured, though. French or a coat of a simple nude—OPI's Samoan Sand is my go-to nude polish.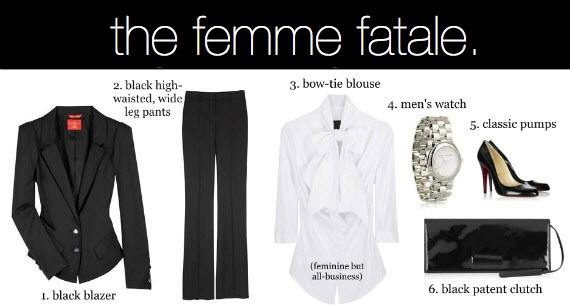 Buy & wear the classics. White button-down shirts with the top two buttons left undone, the sleeves rolled a few times rather casually, and tucked into a pair of pants. High waisted black skirts or pants are the perfect addition to the blouse, and finished with a few silver bracelets, a pair of black pumps, and a wide belt cinching the waist. A simple silver pendant is a dainty touch; pearls are equally beautiful, but may look too mature. Something a bit more modern–like colored pearls, pearls with chains, etc.—lighten the outfit. Blazers are absolute must-haves; the black is a staple, but choosing a more unconventional color—gray, cream, white—adds a dimension of modernity and depth. The little black dress, knee length with sleeves and a modest neckline makes for a feminine approach to the typical pant-suit ensemble. If it lacks sleeves, do wear a cardigan (an electric blue, yellow, teal, or cream are beautiful but sophisticated colors)—worn with or without a belt. Wide-leg, high-waisted denim trousers in a dark wash also act as a fashion-forward, but not too trendy take on the denim wave. Sophisticated and fresh.
.   .   .